George Njuguna a former street boy in Nakuru was rehabilitated by SCANN in 2002. Njuguna went on to finish his studies under the full time care of the SCANN team. Today, he has successfully completed his studies and is a qualified pharmacist from the Kenyatta university. Njuguna has been very humble and grateful to the SCANN community and his sponsor, and he has penned his  appreciation for the magnificent changes in his life as shown below:
Dear sponsor,
Hello, HAPPY NEW YEAR. I hope this finds you well. How is your family doing? I am filled with joy to inform you that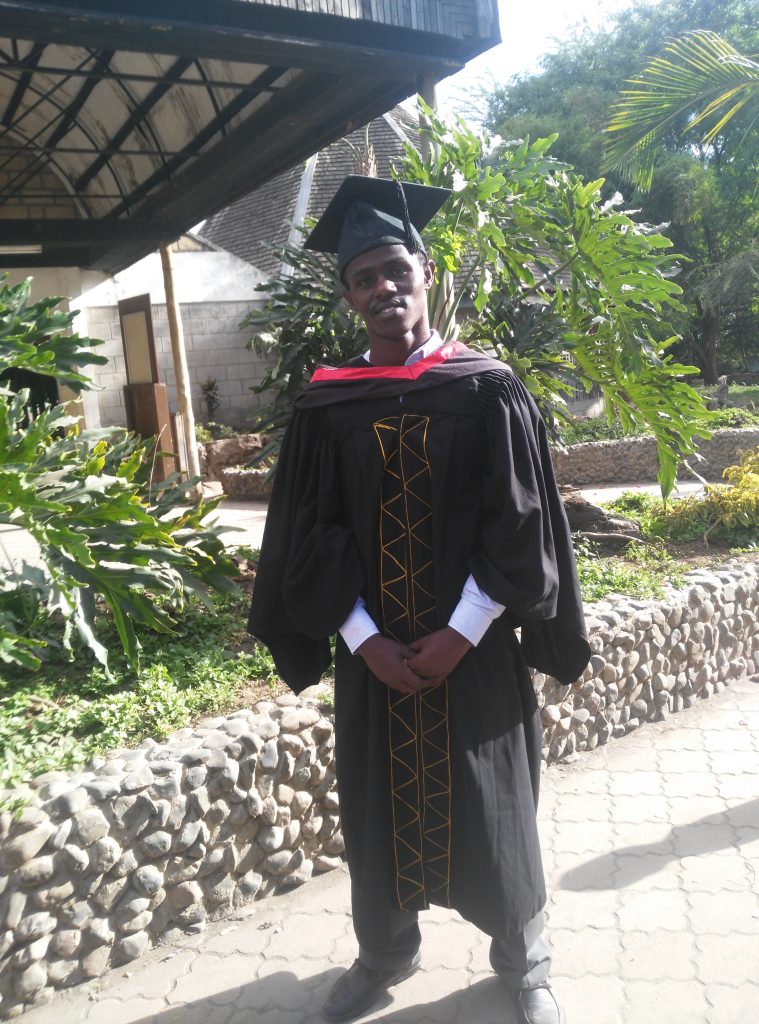 I am doing great. Thanks to Almighty God, SCANN and your support for holding me strong in my moments of despair. My heart is filled with utmost joy and gratitude as I inform you that I finally managed to complete my bachelor degree at Kenyatta University as a Pharmacist Doctor and graduated on 16th December 2016. It was a hectic 5 years study that I can only attribute most of its success to the SCANN community and my beloved sponsors for the unfailing support throughout the period. Not a day was I troubled for lack of tuition fee, food, provisions and even bought me  great text books to help with my studies. SCANN took us, my brother and I from the streets when I was about 9 years. I will never forget what life in the streets was like. The worst and scary part of the life before joining SCANN was that I never had a dream. It was a dull life filled with troubles and worries, surviving for the day. We faced brutality from the community, from older street boys and from life itself.
My mother left us when we were very young, our drunkard father stopped caring, there was no food in the house, beating and mistreating when drunk and could not pay for the school fee which resulted in us being kicked out. We were forced to run to the streets for survival; begging for food, eating from dustbins, sleeping on cold verandahs, drugs and facing bullies of all sorts. I recall so many times fortunate kids throwing stones at me calling me a thief for getting close to them. SCANN came in as the ultimate light in the dark tunnel. They took me in, cleaned me, took me to school, bought me clothes, fed me and rehabilitated me. They paid for the 6 years in primary school, paid for the 4 years in high school and extended their full support in the 5 years university studies. It is through SCANN that I believe in God. My life has been transformed in a miraculous way that only SCANN family can testify of. I am not only with a dream but I am living the dream, with every reason to thank God every morning for this life, SCANN has given me the power to help the needy in our society. I will forever be grateful for the gracious care, support and love from SCANN and my sponsors. May God almighty bless you and your families with good health, peace, happiness and a long successful life.
I am also glad to inform you that my brother whom we both joined SCANN in the year 2000 completed his studies at Kenyatta University and secured a job with SAFARICOM. He has a family and living a happy life.
I am currently a waiting to be posted by the government for a one year internship period.  Thank you for the persistent support and may the Almighty God bless you. I look forward to hear from you. HAPPY NEW YEAR.
Yours faithful,
George Njuguna.
The SCANN community is proud of his achievements and wishes him success in all his endeavors.